Maybe this is your first, second, or third pool that you have had built or resurfaced. The difference this time is that you have installed the NUVO-GLO™ UV Lighting System in your pool, and you want to make sure you get the best underwater light show every time you go for an evening swim. So how are you going to make sure the stars sparkle night after night when you turn on your NUVO-Glo™ System? 
The Application is Key. With each NUVO-GLO™ UV Lighting System sold, we provide an installation guide, which includes application techniques with which every builder is familiar. If at any time the installer has a question about how to install the NUVO-Glo™ System, we are there at the ready to answer any questions they may have.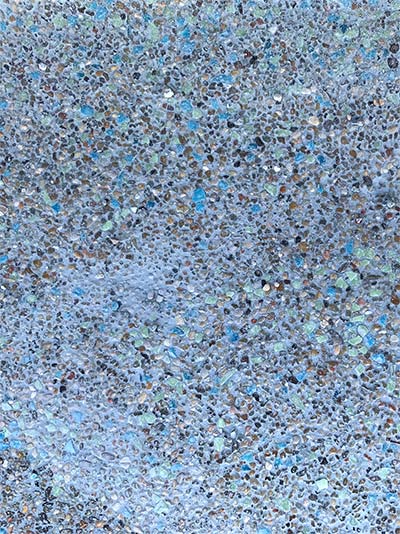 There will be plaster residue (a.k.a. plaster dust) that will accumulate on the surface during the application process. This plaster residue is normal and will go away within a couple of weeks to a month after consistently brushing the surface twice a day for the initial two weeks. The NUVO-Glo™ Aggregates will be very visible the first time you turn on the system, but after brushing the pool twice a day for the first two weeks, the aggregates' increased brightness will be noticeable.
Here are best practices for brushing plaster residue/dust from plaster and pebble surfaces, so your stars shine bright:
During the initial fill of the pool, the walls and floors should be 

brushed to remove the remaining plaster residue and any other impurities

 collected on the pool's surface before and during the initial fill.
Since this residue is very light, the initial brushing while filling removes the residue from the surface. Still, it remains suspended in the water until the vacuum cleaning system circulates the pool water through the installed system filter. The filter will remove many of the impurities from the water as it is circulating. Allow the System to run per the manufactures recommendations. Most manufacturers recommend that you run the System long enough to filter the pool water 3-4 times.
The next day, all pool surfaces should be vigorously brushed once in the morning and once in the evening to remove any dust that might not have been picked up by the vacuum the first day.

  By brushing the surface, you will suspend the fine dust particles again and allow the vacuum to pick them up and enable the filter to capture them.
The clouds need to clear to see the stars in the night sky. This same principle applies to your pool. It is essential to take time to brush your pool's surface twice per day for the first two weeks and then once a week the following week to optimize the amount of NUVO-Glo™ shining stars you see night after night.